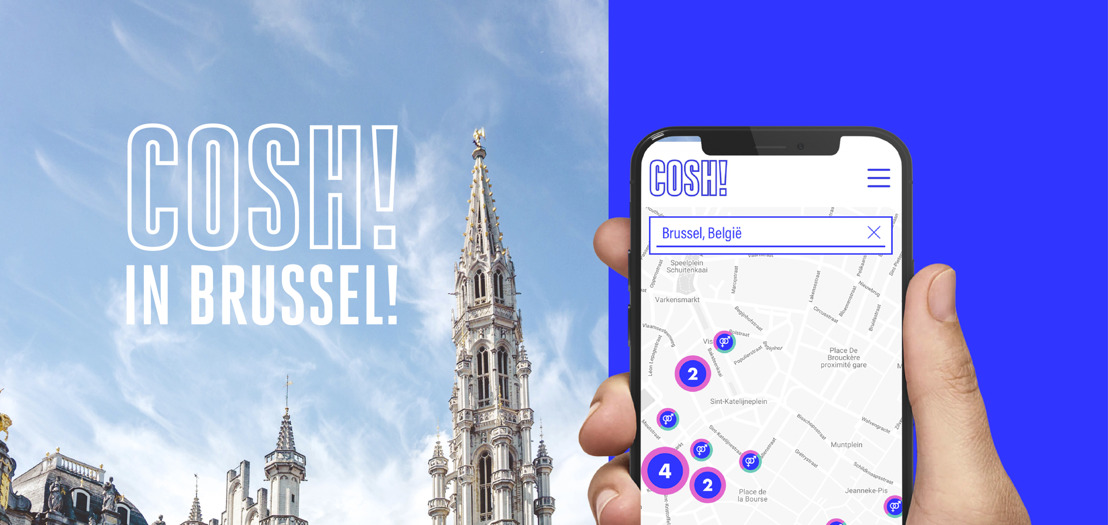 COSH! Conscious Shopping made easy now also in Brussels
After a successful launch in Flanders, it was time for COSH! to expand. That's why we are now active in our beloved capital. That's right, from now on you can find your favourite ethical clothes and accessories in Brussels too. How awesome is that? In only six months, we managed to gather no less than 30.000 users, 12% of which are based in Brussels. And there's no way we're stopping there!
We now have two Brussels-based team members and are planning on hiring more soon, stay tuned and make sure not to miss this awesome opportunity to work with us! That also means that the COSH platform is now also available in English and French so that everyone can easily find what they're looking for.
---
COSH! now also guides you to fair childrenswear and cosmetics in Flanders
In Flanders, you can also use COSH! to find truly ethical and planet-friendly childrenswear.
COSH! also developed a rating system to score natural cosmetics not only on the health effects on your skin but also taking into account measures that affect cosmetics overall carbon footprint like packaging and impact of long-distance transport. In that sense, COSH! is a first of it's kind in cosmetics screening. A product healthy for your skin doesn't necessarily mean it is mined or harvested under fair trade circumstances. COSH is the first platform that takes this all into consideration and connects this big data to guiding you near to more responsible shopping choices in your own style and budget in stores near you.
---
WHAT IS COSH! ?
COSH! makes conscious shopping easy thanks to an online tool
We can no longer ignore it; every day we are confronted with the consequences of that the polluting fashion industry has on people and on the environment. April 24th, marks the 7th year since the Rana Plaza's factory collapse and unfortunately, only 1% of all fashion is produced in truly fair circumstances.
Consumers are being encouraged to do their bit, but often lose courage once they start searching for sustainable and ethical fashion brands. COSH! simplifies sustainable shopping with a user-friendly online tool in Belgium.
COSH! encourages local shopping
Online shopping is booming, but it' s not always sustainable. COSH! wants to encourage consumers to shop more offline and is consciously looking for local retailers and brands that want to join the platform.
The dialogue that is created with local entrepreneurs concerning the production process, for example, will make consumers more aware and will, therefore, encourage them to make more sustainable purchases.
COSH! is active in Antwerp, Leuven, Mechelen, Ghent, Aalst and Mortsel where currently a total of 57 shops and almost 200 brands are connected. It is COSH!'s ambition to grow towards 100 retailers in Belgium reaching 80% market share in terms of eco-friendly retail.
COSH! wants to offer all aspects of sustainability in the clothing and textile sector on the platform and will also focus on second-hand retailers as throughout 2020 and is looking for shopping cities to help them do so.
COSH! is breaking the stigma
In our endless quest for the perfect outfit, something has struck us more than once. It is the fact that when you mention to people the words "vegan", "ethical" or "biological" when talking about fashion, a majority of them share the same two ideas: "these kinds of clothes are not trendy" and "these clothes are always too expensive". Well, let us tell you that this is not necessarily true, on the contrary! COSH! works hard in order to find the perfect stores for every style and every wallet, and if you don't believe us, check our website www.cosh.eco and see it for yourself, we promise you won't regret it.
COSH! Conscious Shopping based on thorough research
Believe it or not, it is not that easy to appear on our platform, as we are the first ones to not only gather fair working conditions and eco-friendly materials or veganism but to also take into account the circular economy and the short supply chain.
Here are the 8 main qualities that we are looking for in brands:
the ethical side (working conditions)

the ecological side (impact on the environment)

the circularity

the short supply chain

the use of harmful chemicals and microplastics

the animal welfare

the slow fashion business model against overconsumption

the transparency of the brand.
Our team is 100% devoted to its task and works hard on a daily basis to gather as many information as possible about each and every brand. Everything on brand's websites is double-checked, we even go as far as verifying the validity of some certification numbers and verify what is in store in comparison to what a brand states online!
Because we ask for full transparency from our partners, it is only fair that we are also totally transparent, and we won't hesitate to mention it if a brand checks some boxes but misses some important ones.
Now you've been warned, with COSH!, nothing is left to chance. ;-) And obviously we are open to feedback of end-users and partnership with like-minded companies as well.
READY. SET. COSH !
Go to COSH! www.cosh.eco and login for omni-channel experience.

Indicate what you are looking for and within what budget. Vegan? Fair Trade? Local? Socks or jeans? Everything is covered.

COSH provides a handy overview of the brands that match your budget and style. With one click you' ll find all relevant information about the ethical and ecological efforts made by a brand.

Both on the overview and per brand COSH! will show you on a map where you can get these sustainable brands.

On this map you can also add a shop to your personal shopping trip. Simply click to read more about the shops before adding them to your personal list.

Ready with the pre-selection? You can see your personalized shopping route on your smartphone in no time. Or you can prepare the route at home in advance on your laptop and then log in to your mobile phone to follow your shopping route via Google Maps. If you want to print your route, take it with you during your shopping trip. Enjoy sustainable shopping!

Passing a COSH!-store while in the city? Scan the QR-code windowsticker and you immediatly get an overview of the sustainable content inside the store. Let the COSH! brand ratings guide you in store.
We wish you an amazing experience and a lot of great conscious shopping!
Are you a retailer with a sustainable offer? Would you like to appear on our platform alongside hundreds of other ethical brands? Do not hesitate to contact niki@cosh.eco, she will get back to you as soon as possible!
COSH events in Brussels?
Our founder Niki will be part of the panel at the event Sustainable Fashion Made in Europe organised by MAD Brussels on the 25th of March. Alongside other professionals, she will be debating about the topic "Sustainable Fashion Made in Europe, what is the true cost and are we willing to pay the price?". Be sure to follow our Instagram account @cosh.eco so you don't miss a bit of this interesting evening!
---
www.cosh.eco
---
Not for publication
please note COSH! is a platform which you can access through your browser both on mobile, laptop or desktop. It is not an app.

Niki de Schryver Founder, COSH! Conscious Shopping Made Easy